Air Knife X-Stream
Air Knife Systems utilize compressed air for industrial applications. The curtain like airflow of the Air Knife is the most efficient way to dry, clean, removes excess oils and liquids, dust, and cool.

Product Overview
Air Knife X-Stream is easy to mountand maintain, reducing bothcompressed air consumptionand noise levels. It is the most efficient design yet achieved inAir Knife blow off technology in reducing noise levels and airconsumption yet providing theoptimum in blow off energy.
Air Knife X-Stream produces a"laminar" flow of air along its lengthusing the "Coanda"effect which "entrains" a large volume of air from thesurrounding areaalong with a small amount of compressedair fromAir Knife X-Stream to produce anoutput flow up to 40 times.

Note : Plastic shims can wear out quickly in Air Knives if theair is not clean.
Note : We useONLY stainless steel shims

Air-Knife X-Stream Features

No moving parts


Gold Anodized aluminum, Black Anodized aluminum or stainless steel


Compact design, simple, lightweight and portable


"laminar" flow - Air across entire length of Air Knife


Air inlets at ends and back


Driven by air not electricity


Replaces drilled pipe and open jets or nozzles used for blowoff, cleaning, drying and cooling


High airflow amplification


Instant on-off, no electricity or explosion hazard

Air Knife X-Stream Benefits

Longer life in difficult environments than competitive


Lower compressed air consumption than drilled pipe or rows of open jets and nozzles


Can be placed end to end for continuous airflow


Maintenance free with output easily controlled, safe to use


Lower noise levels at 69 dBA and less with smaller space

Air-Knife X-Stream HOW IT WORKS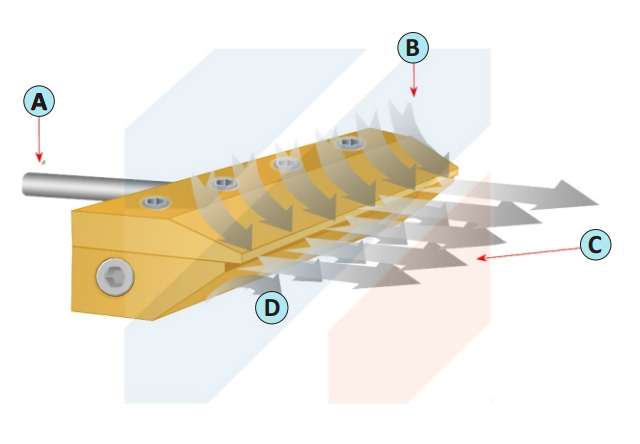 Compressed air enters the Air Knife X-Stream at the rear (or end) ports at (A). Air is
entrained at point (B) and (D) by the compressed air streamthat leaves the Air Knife
X-Stream from a small gap at point (C). Theentrained air follows the profile that directs
the airflow in aperfect straight line to create a uniform sheet of air alongthe entire length of the Air Knife X-Stream. The amplifiedair stream maximizes velocity and force is maintained
as awell defined sheet of laminar flow with minimal wind shearfor reduced energy use in
blowoff and cooling

Anodized Aluminum Air Knife X-Stream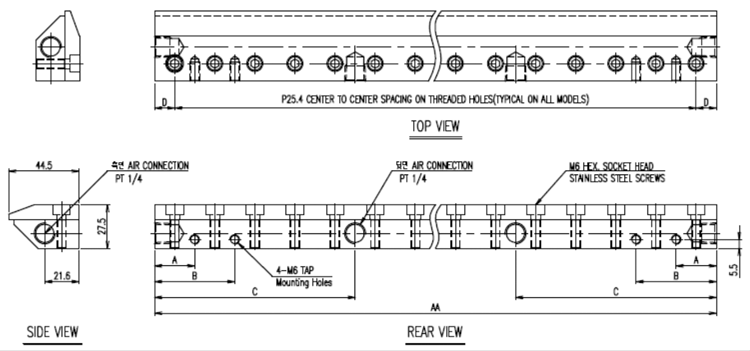 Stainless Steel Air Knife X-Stream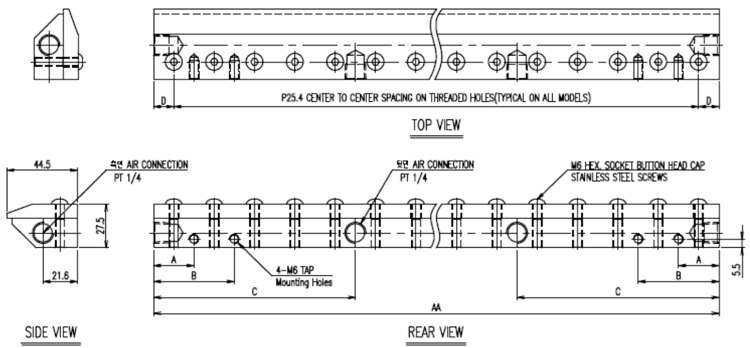 Dimension Table of Air Knife X-Stream
Unit length:mm
Model

Material

AA

A

B

C

D

Air connector
1/4"PT

Side

Back

10002X

Aluminum+Gold Anodizing

50.8

N

N

25.4

12.7

N

1

10002XHA

Aluminum+Black Anodizing

10002XS

Stainless Steel SUS 304

10003X

Aluminum+Gold Anodizing

76.2

21.8

N

38.1

12.7

N

1

10003XHA

Aluminum+Black Anodizing

10003XS

Stainless Steel SUS 304

10006X

Aluminum+Gold Anodizing

152.4

25.4

50.8

76.2

12.7

2

1

10006XHA

Aluminum+Black Anodizing

10006XS

Stainless Steel SUS 304

10009X

Aluminum+Gold Anodizing

228.6

25.4

50.8

76.2

12.7

2

2

10009XHA

Aluminum+Black Anodizing

10009XS

Stainless Steel SUS 304

10012X

Aluminum+Gold Anodizing

304.8

25.4

50.8

76.2

12.7

2

2

10012XHA

Aluminum+Black Anodizing

10012XS

Stainless Steel SUS 304

10015X

Aluminum+Gold Anodizing

381.0

25.4

50.8

101.6

12.7

2

2

10015XHA

Aluminum+Black Anodizing

10015XS

Stainless Steel SUS 304

10018X

Aluminum+Gold Anodizing

457.2

25.4

50.8

127.0

12.7

2

2

10018XHA

Aluminum+Black Anodizing

10018XS

Stainless Steel SUS 304

10024X

Aluminum+Gold Anodizing

609.6

25.4

50.8

152.4

12.7

2

2

10024XHA

Aluminum+Black Anodizing

10024XS

Stainless Steel SUS 304

10030X

Aluminum+Gold Anodizing

762.0

25.4

50.8

152.4

12.7

2

2

10030XHA

Aluminum+Black Anodizing

10030XS

Stainless Steel SUS 304

10036X

Aluminum+Gold Anodizing

914.4

25.4

50.8

152.4

12.7

2

2

10036XHA

Aluminum+Black Anodizing

10036XS

Stainless Steel SUS 304

10042X

Aluminum+Gold Anodizing

1,066.8

25.4

50.8

152.4

12.7

2

2

10042XHA

Aluminum+Black Anodizing

10048X

Aluminum+Gold Anodizing

1,219.2

25.4

50.8

228.6

12.7

2

3

10048XHA

Aluminum+Black Anodizing

10054X

Aluminum+Gold Anodizing

1,371.6

25.4

50.8

304.8

12.7

2

3

10054XHA

Aluminum+Black Anodizing 
Note : Can be placed end to end for continuous airflow and to make a longer blowoff
system to cover greater distances

Profile of Air Knife X-Stream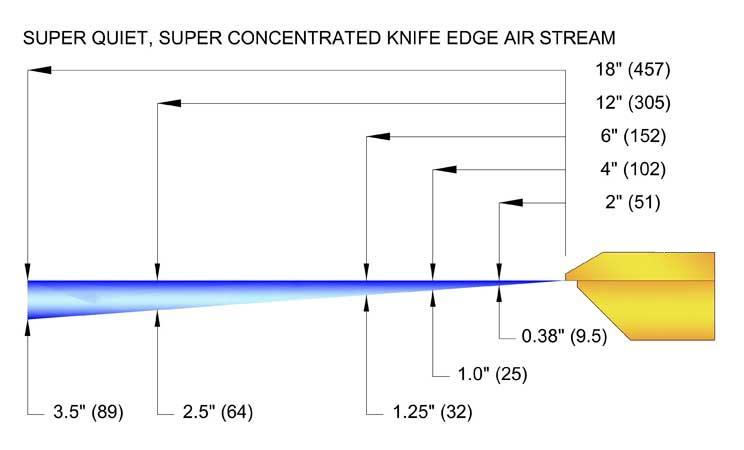 Compressed Air Consumption Chart
| Inlet Pressure | Air Consumption per 25.4 mm with 0.05mm Gap | Air Consumption per 25.4 mm with 0.10mm Gap |
| --- | --- | --- |
| 1.4 bar (20 PSIG) | 34 LPM/25.4 mm | 68 LPM/25.4 mm |
| 2.8 bar (40 PSIG) | 48 LPM/25.4 mm | 96 LPM/25.4 mm |
| 4.1 bar (60 PSIG) | 65 LPM/25.4 mm | 130 LPM/25.4 mm |
| 5.5 bar (80 PSIG) | 79 LPM/25.4 mm | 158 LPM/25.4 mm |
| 6.9 bar (100 PSIG) | 93 LPM/25.4 mm | 186 LPM/25.4 mm |
| 8.4 bar (120 PSIG) | 110 LPM/25.4 mm | 220 LPM/25.4 mm |

Use of Shims
We use ONLY stainless steel shims in their Air Knife products as plastic shims wear outover time and requirereplacement, even with relatively clean air systems Stainless steel shims are .002" (.050 mm). However,velocity and force can be increased approximately 30% by adding a second .002" (.050 mm) shim. Shims may be stacked up to 5 sets If usingthree or more sets however, the air inlets at the "ends" should be used to maintaineven flow along the Air Knife system. Otherwise a slight dropin pressure and flow will occuracross from the rear inlet ports if they are used with three or more shims


Air-Knife X-Stream Mounting
M6 Mounting holes are provided for easy mounting of the Air Knife X-Stream. In addition, the holes at the bottom ofthe unit may also be used for mounting

Accessories
It is important to keep the air supplyclean and dry. We recommend a water removal filter with a float type automatic drain with a minimumfiltration of 5 micron. If there is a chance of oil in thelines, we suggest an oil removal filter as well with aminimum filtration of 0.3 micron, also with anautomatic drain.To minimize air use, we recommend aregulator with gauge to set the minimum pressurenecessary to operate the system


OPTIONAL Air-Knife X-Stream COUPLING KIT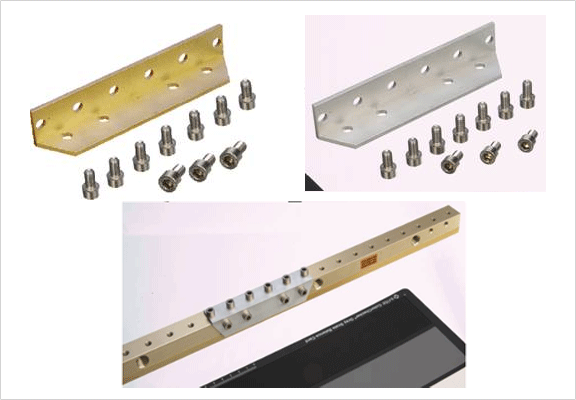 This one piece kit c/w 10 stainless steel screws connects any two or more Air Knife X-Stream of 6" or larger together to make a longer blowoff system to covergreater distances