Air Conveyer
Convey solid materials, waste, trim, small parts with virtually no moving parts Ring Vac "Air Conveyor" conveys material at high rates and over long distances. They utilize only compressed air for a powerful, efficient venturi action along its length in a compact design for high capacity conveying over large distances These vacuum conveyors provide a simple, low cost solution compared to other pneumatic conveying systems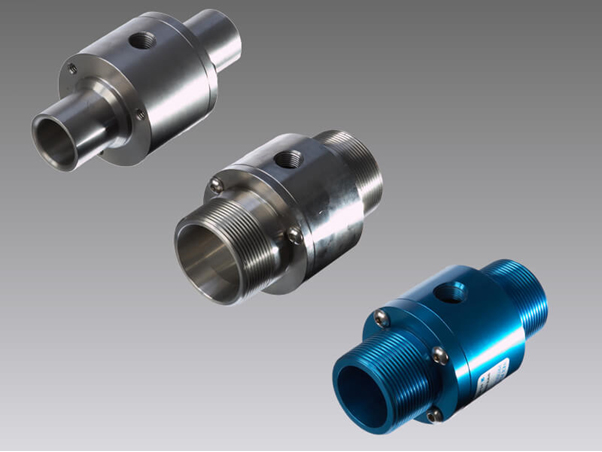 Ring Vac "Air Conveyor" is available in both ANODIZED Aluminum, STAINLESS STEEL. Simply clamp a standard hose size to each end of the Ring-Vac™ to create this high energy conveying system. No moving parts for maintenance free operation with capacity and flow controlled with a pressure regulator.

Ring-Vac HOW IT WORKS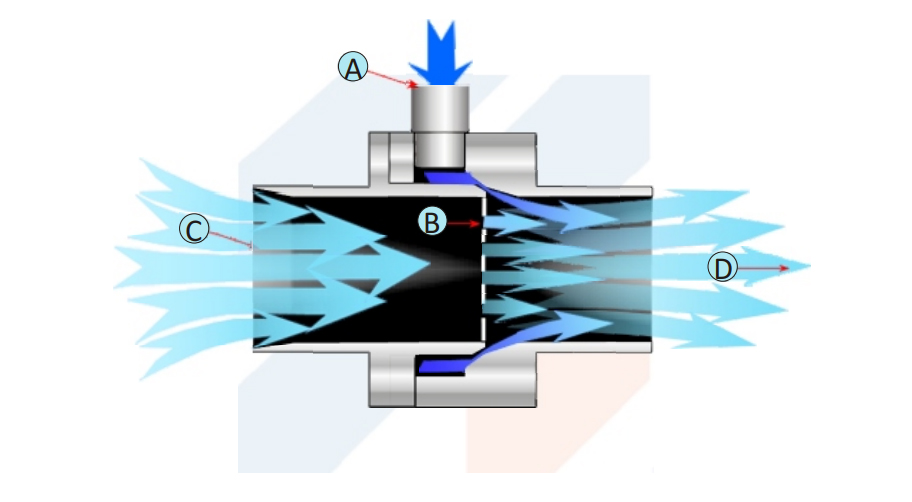 Ring-Vac™ compressed air conveying system – Compressed air enters at point (A) into a annular plenum chamber and injected into the throat of the unit though directed nozzles. These jets of compressed air create a vacuum at the inlet (C) which draws in material and accelerates it through the unit and out at (D) conveying the material over a great vertical or horizontal distance.

Ring-Vac Benefits
Longer life in difficult environments than competitive models. Ease of use. Simple and easy control of material flow. Maintenance free operation. Utilizing a pressure regulator will control the flow material. Instant on/off with no moving parts, no electricity or explosion hazard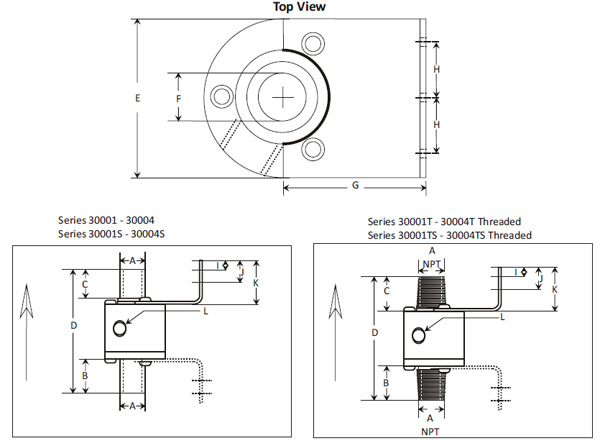 PART NO.
(Aluminum &
high temperature stainless steel)

A
B
C
D
E
F
G
H
I
J
K
L
Model 30001, 30001S, 30001T, 30001TS

1.00
25.4

1.38
35.1

1.25
31.8

5.00
127

2.25
57.2

2.38
60.3

2.38
60.3

0.78
19.7

0.38
9.5

0.94
23.8

1.75
44.5

1/4
NPT

Model 30002, 30002S, 30002T, 30002TS

1.25
31.8

1.38
35.1

1.25
31.8

5.0
127

2.5
63.5

1.00
25.4

2.38
60.3

0.78
19.7

0.38
9.5

0.94
23.8

1.75
44.5

1/4
NPT

Model 30003, 30003S, 30003T, 30003TS

1.50
38.1

1.38
35.1

1.25
31.8

5.0
127

2.75
69.9

1.25
38.1

2.38
60.3

0.78
19.7

0.38
9.5

0.94
23.8

1.75
44.5

3/8
NPT

Model 30004, 30004S, 30004T, 30004TS

2.0
51.8

1.38
35.1

1.25
31.8

5.0
127

3.25
82.6

1.75
44.5

2.38
60.3

0.78
19.7

0.38
9.5

0.94
23.8

1.75
44.5

3/8
NPT

Model 30005

2.5
64.0

1.38
35.1

1.25
31.8

5.0
127

3.75
95.0

2.25
57.2

2.56
65.0

0.78
19.7

0.38
9.5

0.94
23.8

1.75
44.5

3/8
NPT

Model 30006

3.0
76.0

1.38
35.1

1.25
31.8

5.5
140

4.25
108

2.75
69.9

2.76
70.0

0.78
19.7

0.38
9.5

0.94
23.8

1.75
44.5

1/2
NPT

Air Conveyors - Ring-Vac™ Performance
MODEL
Size Outside Diameter
inches (mm)
Air Consumption
SCFM at 80 PSIG
(SLDP at 5.5 BAR)

Vacuum
inches H2O (KPG)
30001/30001S/30001T/30001TS
1" (25mm)
15 (415)
-42(-11)
30002/30002S/30002T/30002TS
1 1/4 " (32mm)
26(730)
-42(-11)
30003/30003S/30003T/30003TS
1 1/2 " (38mm)
33(932)
-36(-9)
30004/30004S/30004T/30004TS
2" (51mm)
45(1270)
-28(-7)
30005/30005S/30005T/30005TS
2 1/2 " (64mm)
58(1650)
-23(-6)
30006/30006S/30006T/30006TS
3" (70mm)
68(1935)
-14.5(-4)
Ring Vac Pneumatic Conveying System is available in anodized aluminum, 303/304 stainless steel and in 316L stainless steel. Our special high temperature stainless version is rated to 1200 F (649 ℃)
Outside Diameter
(Dimension "A" Hose Diameter)
Model Number
Material of Construction
1"
1-1/4"
1-1/2"

30001
30002
30003

Aluminum
Aluminum
Aluminum
2"
2-1/2"
3"

30004
30005
30006
Aluminum
Aluminum
Aluminum
1"
1-1/4"
1-1/2"
2"
30001S
30002S
30003S
30004S
high temperature stainless steel
high temperature stainless steel
high temperature stainless steel
high temperature stainless steel
1" NPT
1-1/4" NPT
1-1/2" NPT
30001T (Threaded)
30002T (Threaded)
30003T (Threaded)
30004T (Threaded)
Aluminum
Aluminum
Aluminum
Aluminum
1" NPT
1-1/4" NPT
1-1/2" NPT
2" NPT


30001TS (Threaded)
30002TS (Threaded)
30003TS (Threaded)
30004TS (Threaded)

high temperature stainless steel
high temperature stainless steel
high temperature stainless steel
high temperature stainless steel